WORKSHOPS
Our workshops and special events are a perfect opportunity to take a deep-dive into special content, improve skills, or enjoy a longer and more luxurious event!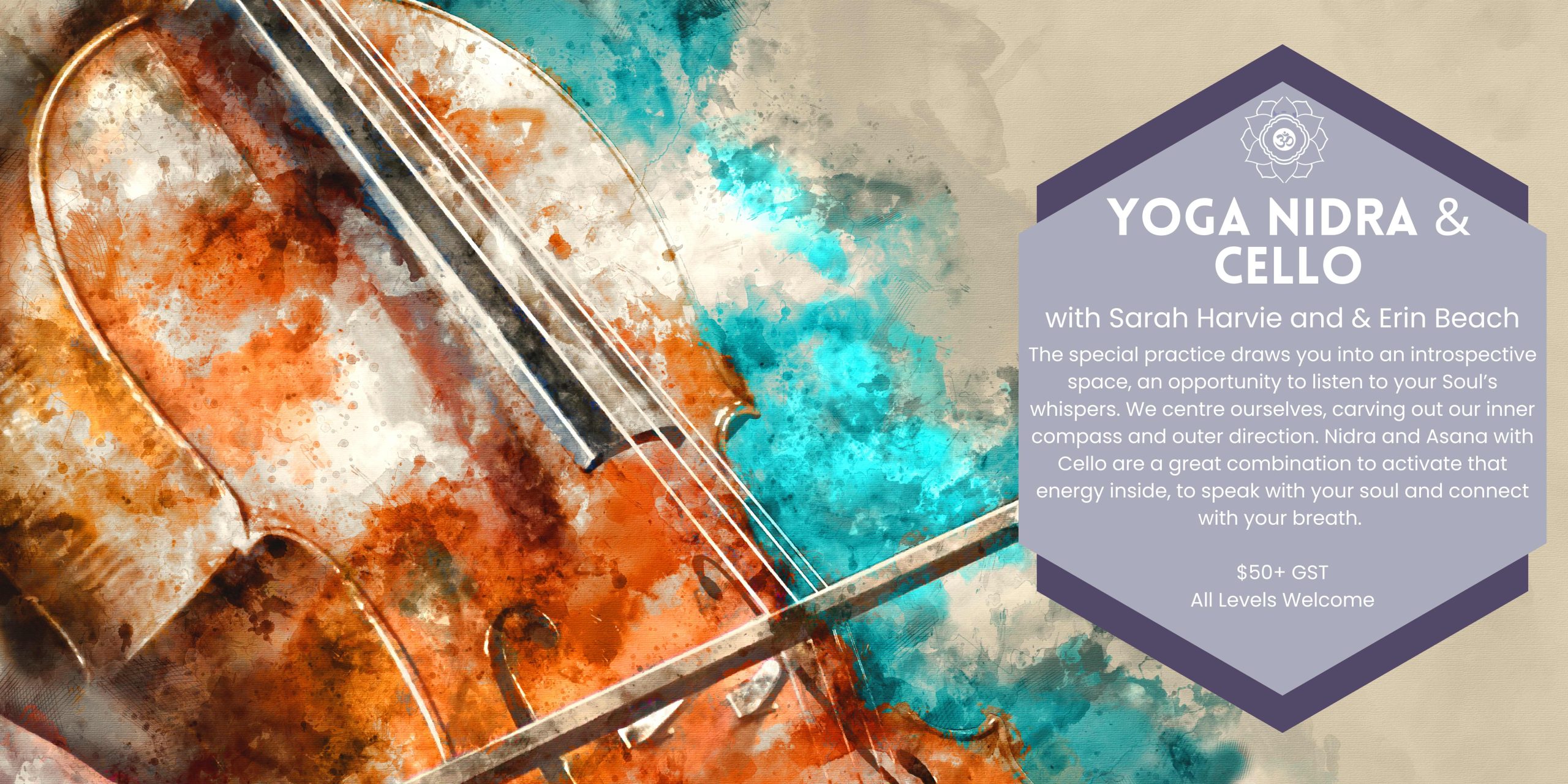 Yoga nidra & cello
With sarah harvie & erin beach
February 25, 2023
7:00p – 9:00p
Yoga Nidra & Cello shine a light on our darkness. We bring our inner world, our Soul, into focus. The practices will draw you into an introspective space, an opportunity to listen to your Soul's whispers. We centre ourselves, carving out our inner compass and outer direction. Nidra and Asana with Cello are a great combination to activate that energy inside, to speak with your soul and connect with your breath.
Sarah invites you to broaden your yoga practice by discovering this ancient practice of Yoga Nidra.
Yoga Nidra is a deep and blissful state of yogic relaxation. Our time together begins with a physical yoga practice to prepare for a guided meditation while resting in an extended Savasana. By tapping into the subconscious, participants unleash the potential of their minds to be more focused, calm, creative and happy.
Benefits:  Rest. Balance. Restore. Release stress. Overcome Limiting Beliefs. Watch the Change Unfold in your Life. Improve Sleep Quality.
All levels are welcome. Please bring a mat and any props you need to lie comfortably in Savasana for 40 minutes (blanket, pillow, etc.).Yoga Nidra is equivalent to 4 hours of deep, restful sleep.  
About Sarah
As a lifelong adventurer, Sarah Harvie has been leading people on their inner and outer journeys internationally for over fifteen years. Sarah shares her practice with others through a variety of healing modalities that have proven to be instrumental to her own path: CranioSacral & Massage Therapy, Yoga Asana & Nidra, and Wilderness Yoga Retreats across the globe.
About Erin
Being a native Calgarian, Erin has been involved in the music scene from a young age playing in many local bands and ensembles. Erin's experience ranges from assistant principal cellist of the Calgary Civic Symphony to providing film soundtrack.
Erin has studied music at the UofC and MRU Conservatory. She has her level three Suzuki Teacher Training from the Suzuki Association of the Americas, a diploma in early childhood education from Bow Valley College, and is a certified coach through the Coaches Training Institute in San Rafael California.
Pricing: $50+gst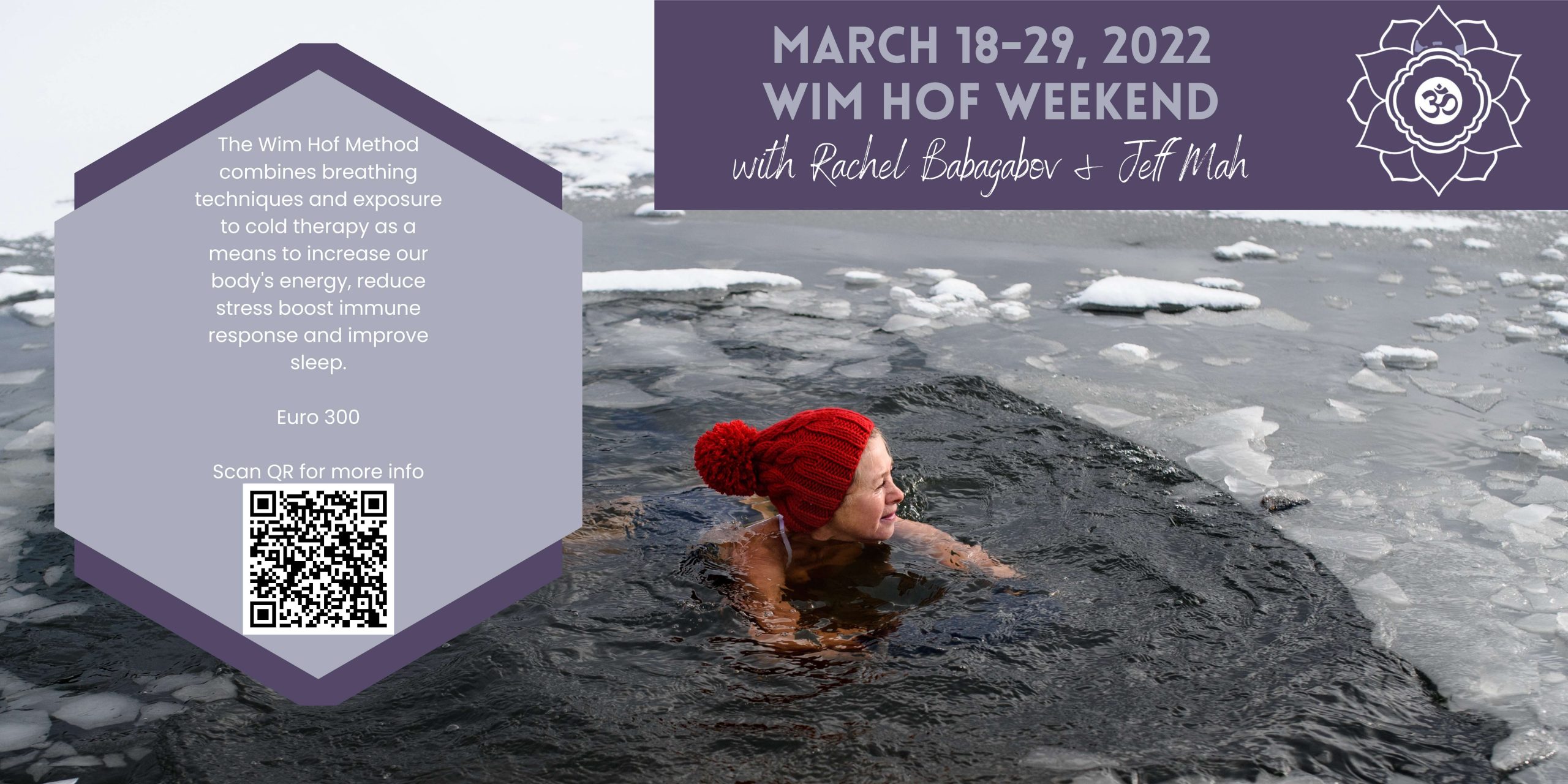 Wim hof weekend
With Rachel Babaganov & JEff mah
March 18-19, 2023
10:00a – 6:00p
Put yourself in the expert hands of a WHM Instructor for an extended Wim Hof Method training session. WHM Weekends are intended to be a deeper exploration of the Wim Hof Method than what migh be covered in a workshop. 
Over the course of two days, all facets of the Wim Hof Method will be extensively covered. You will learn about the physiological mechanisms that come into play, and engage in a variety of breathing and cold therapy activities.
SATURDAY:
10:00 – 10:30 Introduction
10:45 – 11:30 Yoga/Movement with Jeff
11:45  – 12:15 Breathwork with Rachel
12:15 – 1:15 Lunch
1:15 – 2:15 Wim Hof Method Explanation and Q&A with Rachel
2:15 – 4:00 Outdoor Cold Exposure with Rachel
4:00 – 5:30 Yoga/Movement with Jeff
5:30 – 6:00 Q&A and Sharing Circle
SUNDAY:
10:00 – 11:30 Yoga with Jeff
11:30 – 12:15 Breathwork with Rachel
12:15 – 1:15 Lunch
1:30 – 4:00 Outdoor Expedition with Cold Exposure
Closing Circle
Price for this two-day event is 300Euro