WORKSHOPS
Our workshops and special events are a perfect opportunity to take a deep-dive into special content, improve skills, or enjoy a longer and more luxurious event! If you're an auto renew member, use the discount code Auto10 at checkout to receive your 10% discount.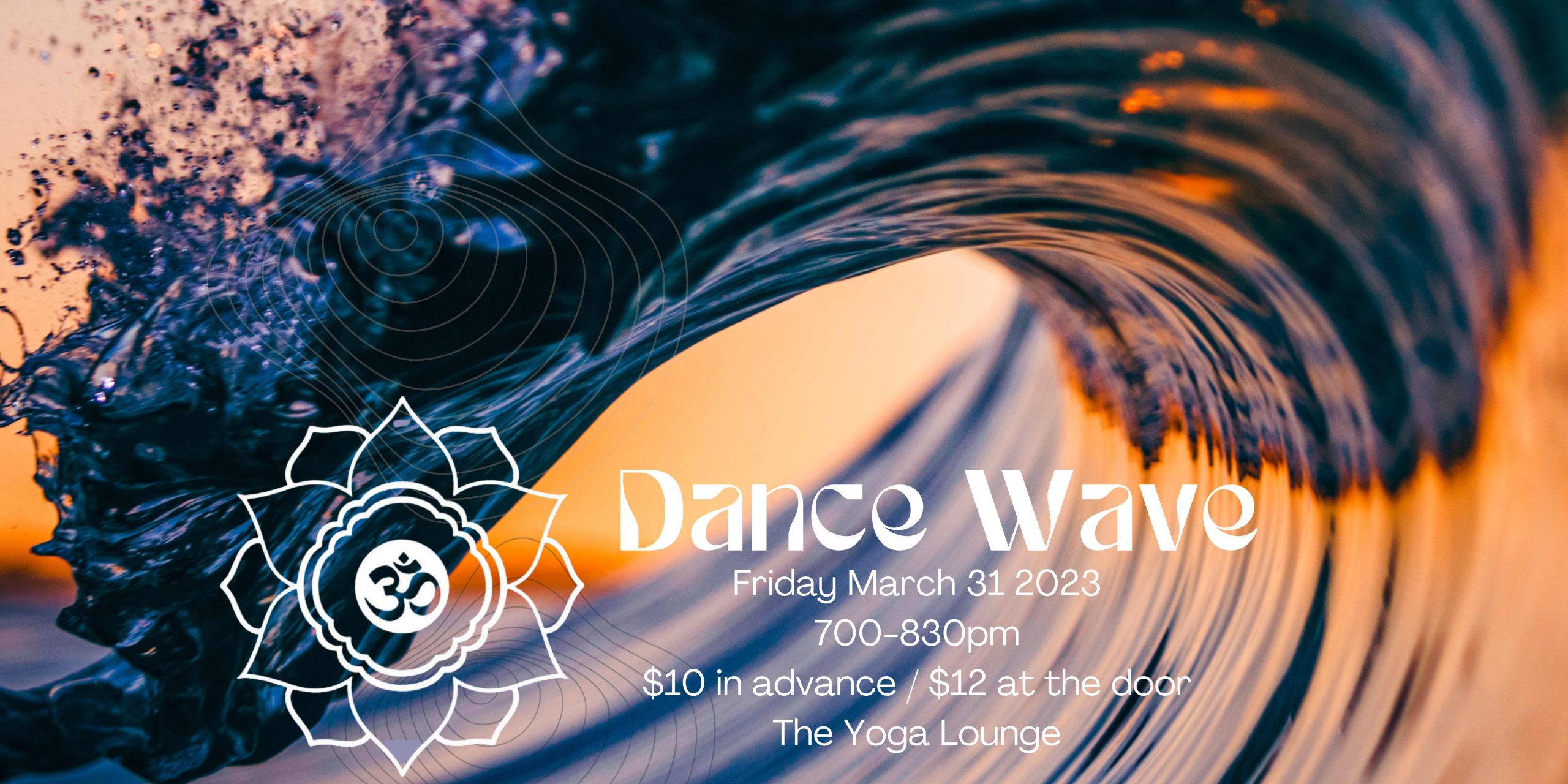 Dance Wave
With nicola mosley
March 31, 2023
7:00 pm – 8:30 pm
We welcome you to Dance Wave, a space for community to gather for ecstatic danceand movement. This is an opportunity to practice freedom of expression throughmovement with minimal guided facilitation.
Why We Dance.
To dance is to pray,
To pray is to heal,
To heal is to give,
To give is to live,
To live is to dance.
~MariJo Moore
It's a space to dance your dance, while being respectful and aware of those around you. Dance as meditation. Dance as prayer. Dance as integration. Dance as connection. Take the time to tune into an eclectic selection (world music, electronic, some classics)of musical flavours to explore moving your body in new ways, together…and the speakers will be bigger and better!
The music and dancing will start slow and build as we settle into our bodies, integrating the natural elements of water, fire, air, earth to support moving through the wave, ending with a savasana. The experience will close with a circle.
Please attend only if you feel 100% well.
Some consistencies to support everyone's experience.
– Bring a water bottle.
– Breathe.
– Take care of yourself, others, and the space.
– You could bring your yoga mat as an option to support closing rest.
– Wear comfortable clothing.
*Dance and Consent*
This is a space to enjoy your own personal dance or spark up creative movement with others, if there is a mutual agreement . If you wish to dance with another, look for eye contact or the body language of an invitation. Remember that a person's willingness to dance can change from moment to moment. At any time you, or the person you are dancing with, may choose to end the encounter by moving away, or bowing with hands in prayer. Please note, this is a substance free space to support presence and clear consent
*Talking*
The dance floor is a no-talking zone to remove distractions and allow folks to drop into their experience. If you need to have a conversation, however brief, please step into the front foyer or into the hallway.
*Cell Phone Use*
We request there is no cell phone use in the dance space. If you need to use your device, please do so in the foyer, change rooms, or outside. As you can imagine, it's distracting otherwise.
Pricing: $10 in advance / $12 at the door
Yin & Pin
With cindy aiello
April 21, 2023
7:00 pm – 8:15 pm
Yin Yoga and guided meditation with three needles
In this 75-minute yin yoga workshop, you will get some insight into Traditional Chinese Medicines' 12 main meridians, their associated emotion & organs, and which Yin Yoga poses we can do to target that meridian. 
Yogis call the energy system Prana, while Traditional Chinese medicine calls it QI.  Both these energy systems translate to "life force".
Just as Prana travels through the energy channels called Nadis/Chakras, QI travels through a network of energy called "jing-lou", this translates to meridians.
By building these poses into our yoga practice we can help balance our energy and emotions. 
We will finish with a 30-minute guided meditation with three little needles to enhance your relaxation experience and experience this calming effect for up to 72 hours after.
*As a special offer, workshop registrants will receive a complementary 15 minute acupuncture consultation from Cindy at One Wellness.
About Cindy
Athleticism has been a big part of my life since I was a very little girl.  Growing up as a competitive athlete, fitness and health were a daily part of my life.  My athletics and enthusiasm for healthy living fuelled my desire to start my journey within the industry.  I started off with a Diploma in Food and Nutrition Management.  I craved a more active path, which led to a yoga and fitness career.  My desire to continually learn and explore led me to Traditional Chinese Medicine in Acupuncture.  I graduated from Alberta College of Acupuncture and Traditional Chinese Medicine.  I am a compassionate and dedicated alternative medicine professional determined to help empower others to elevate their wellness and help guide them toward feeling the best they can.
Pricing: $50+gst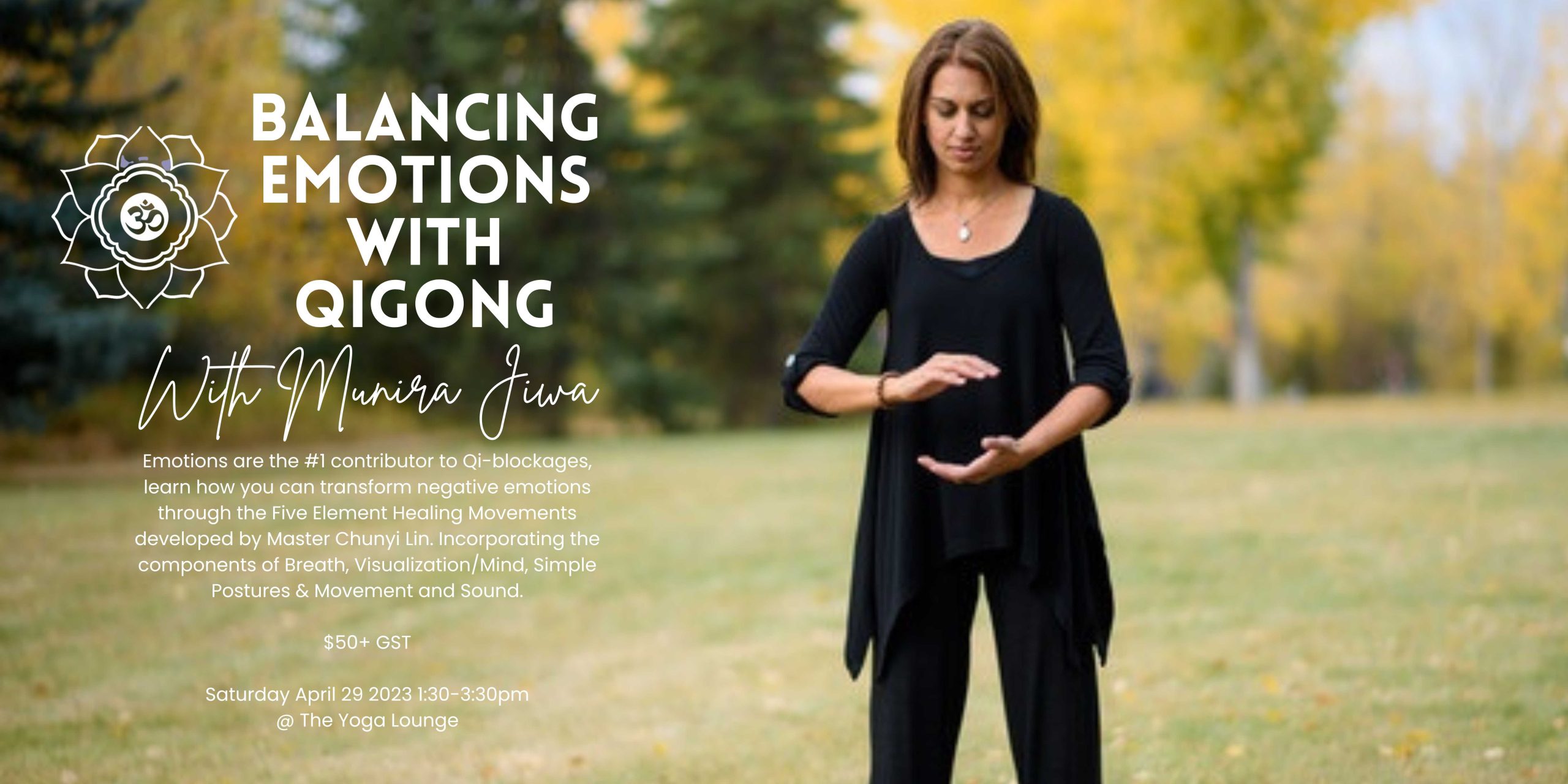 balancing emotions with qigong
With munira jiwa
April 29, 2023
1:30 pm – 3:30 pm
Qigong is a powerful form of ancient meditative exercises that helps you create an internal environment of peace and healing.
 
As emotions are the #1 contributor to Qi-blockages, learn how you can transform negative emotions through the Five Element Healing Movements developed by Master Chunyi Lin. Incorporating the components of Breath, Visualization/Mind, Simple Postures & Movement and Sound.
Munira was the first Certified SFQ instructor in Canada trained in 2009 by Master Lin himself.  She has been teaching the principles and techniques of SFQ ever since.
In 2015 she was awarded the title Spring Forest Qigong Master by Master Chunyi Lin.
Today Munira is certified to teach SFQ Workshops Level One, Two, Three and Four plus she runs weekly practice groups online for people all over North America. 
Pricing: $50+gst